I successfully charged a 3rd and 4th generation retina iPad in the car at the same time using only one plug. Belkin makes it. It also conveniently comes with a lightning cable. For the longest time, I had been using these AC inverters with the official wall adapters (its built in USB port, like all my old chargers, does not charge a big iPad).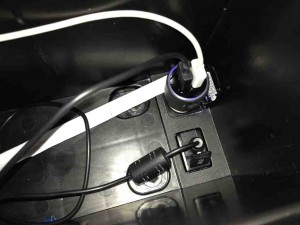 In the picture, you can see my auxiliary audio in is right next to the power port inside the armrest. I used to use a charger that had a nice 6 inch audio cable coming out of it (and a dock connector for your iPod – I bought it in like 2005) but I unfortunately have not been able to find a replacement, so for now it's just a standard audio cable and I have to plug in TWO THINGS. The car's bluetooth is paired to my girlfriend's phone since, you know, it's her car.
I'm not sure what the point of this post was, but there you have it. You can finally charge two iPads without the mess of inverters, but that particular inverter is also worth owning because it has passthrough (so you don't eat up your only port), USB for non-iPads, and three outlets. Just do your math ahead of time and read the labels on your car. Most ports only actually output 100 watt, and a 65 Watt MagSafe 2 takes up most of that, but charging 10 iPads should be fine.