First, Belkin announces (but does not ship) a $299 Thunderbolt dock with USB 2, Gig Ethernet, HDMI, FW800, audio, and a single daisy chain thunderbolt port in addition to the one you use to attach it.
CES 2012: Belkin Thunderbolt Express Dock to Launch in September at $299
Then, Matrox, makers of high end video hardware and those neat Dual/TripleHead2Go boxes announces their Thunderbolt dock, with Ethernet, USB 2 and 3, Audio, DVI, and no daisy chaining thunderbolt port for $249
Matrox Announces DS-1 Thunderbolt Docking Station for $249
Before shipping the original, Belkin decides to update their product, bump the price to $399, and add eSATA, USB 3, and remove the dedicated HDMI port (but including a MiniDP to HDMI adapter).
Belkin Upgrades Thunderbolt Express Dock with USB 3.0 and eSATA, Bumps Price to $399.99
Is everyone (including Apple) insane? The Thunderbolt device we need the most is a hub so we don't have to put displays at the end of the daisy chain, where they make the least amount of sense. "You need this external drive? here, let me unplug my display for you". (Don't point out Apple's $999 Thunderbolt Display – we all have perfectly functioning displays that don't need replacing)
Currently the 27″ iMac is the only machine with two thunderbolt ports. The Mac Mini (with it's Thunderbolt and HDMI port) is the only other machine you can connect two displays to without daisy chaining, but of course it has no onboard display.
Currently I have a Mac Mini with two 24″ LED cinema displays on it (using an active DVI to MiniDP converter, adapted from the HDMI output). Although nothing is broken, it's not a quad core machine and not a thunderbolt machine. The current Mac Mini's essentially make you chose quad i7 OR discrete GPU (not both) so they're out of the question. I've never understood why Apple bothered putting an HDMI port on these. I have several at home and at work hooked up via HDMI to projectors and really an adapter would not have killed me. I'd rather have two MiniDP/Thunderbolt ports I know I can adapt to anything.
So, if anyone at Apple is listening, if you want to push Thunderbolt in the right direction, release all of you new Macs with 6 (yes 6) thunderbolt ports on them, and dedicated, first party, TB to Ethernet, FireWire800, and USB 3 dongles available for purchase (or just make them free, I know they cost $3 to make).

While we're making insane Mini mockups, I thought I'd add this: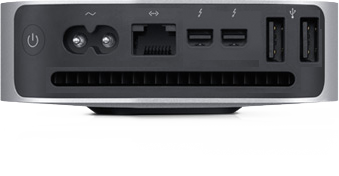 If it were THAT size I'd accept Intel Graphics and one of those SSD sticks that are in the MacBook Air's – starting $299
Boy it would be nice if Apple used MagSafe on these things, making it even easier to plug into the Cinema Displays. You may be wondering why I kept Gigabit Ethernet, the largest port, on these. The answer is so the machine has at least one real MAC address and I imagine these things will change how we do load balancing and cluster rendering/compiling.